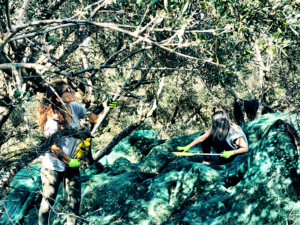 Climatic conditions in Crete, with fresh air summers and mild winters succeed in cultivation of olives. Fertile soil and willing farmers contribute primarily to the result of an excellent extra virgin olive oil.
Collective work is accomplished with the participation, by the members of the family. In that way inherited knowledge is transmitted from old generation to the next. Farmers get round with rural occupation all the year. Minimum pesticide use adverse effect on the environment. Time for harvest and the family is moving on the olive orchard. Producing Extra Virgin Olive Oil requires coordination and discipline. Hard work at the same time with care, injuries on the olive tree should be evaded. Members are accounted in a task, hard or more skilled everyone takes part. Main subject for all is to obtain the extra virgin olive oil.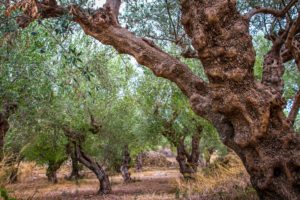 Olive orchards in Crete today are in many cases mixed cultivations, trees with old roots from Tsounati variety and new plantations of Koroneiki. Modern tools and machines are in use for the best performance at the special Cretan terrain. Experts agree that Extra Virgin Olive Oil has the most beneficial attribute for the human health. So farmers do their best.
Olives are forward in few hours after the harvest to the mill. For the transfer special boxes are used in order to achieve the required air circulation. Modern two phase mill provide the cold press within four hours for the high polyphenols extra virgin olive oil.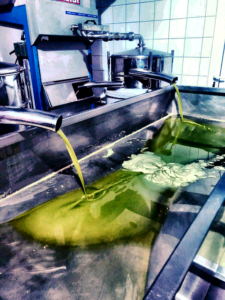 Fresh cold pressed extra virgin olive oil is transferred at warehouse in stainless steel tanks. In a time of two to three moths our superior olive oil has gain its clarity, through the natural infiltration process. Mature of the flavor is achieved from the interval time. The mixture of the olive seeds performs now at the best for use in the human diet. It is content to transform every meal in a healthy temptation.
Since we own the land and the trees for many generations, the treatment of the olive trees and the sol comes as a heritage.
Below you may see a short video on how our family is collecting the olives.
Agritourism in Crete by Patima olive oil